How can I use the OneTouch method for Two-Factor Authentication?
Two-Factor Authentication (2FA) adds an extra layer of security to your Namecheap account in addition to your username and password by requiring access to the phone number associated with your account. When the Two-Factor Authentication is enabled, your account cannot be accessed by anyone unauthorized by you, even if they have stolen your password.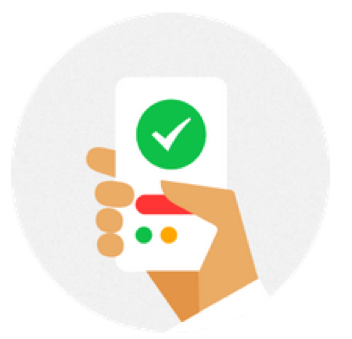 OneTouch 2FA is the one of the easiest methods to approve your login or password reset requests. You can start using this new feature by installing an updated version of the Namecheap application for iOS (v. 3.6.0) or Android (v. 1.1.4) that supports it.
For now, the functionality to use OneTouch with the Authy application is absent.
Please note that you can add several devices (for example, phones, tablets, etc.) to your Namecheap account to receive the OneTouch app notifications. However, the same device can be paired with one Namecheap account only.
Only one phone number can be associated with the OneTouch 2FA method, and it's possible to upgrade the same phone number within several Namecheap accounts for OneTouch.
How to start using OneTouch
First of all, get the Two-Factor Authentication feature enabled for your Namecheap account.
When ready, upgrade your authentication method to OneTouch in your Namecheap account: Profile >>Security >> Access >> Two-Factor Authentication >> Manage >> Upgrade to OneTouch: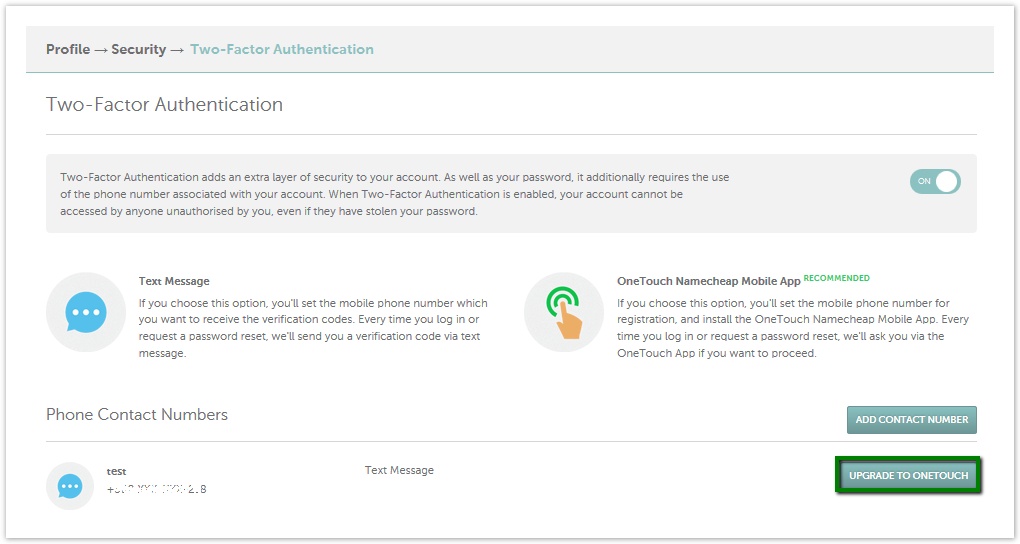 Enter your Namecheap account password to approve the request. The next step would be getting the app.
If you have no Namecheap app installed on your device, you will get an SMS with a link to download it from App Store or Google Play.
If you've got our app already, make sure you are using its new version released after July 10, 2017. You can easily upgrade the application in App Store or Google Play as well.
Now open the app and log in using your Namecheap credentials. Go through the regular Two-Factor Authentication by entering a security code from the SMS.
Once there, you will see the 2FA button in the left corner of your app you need to click on: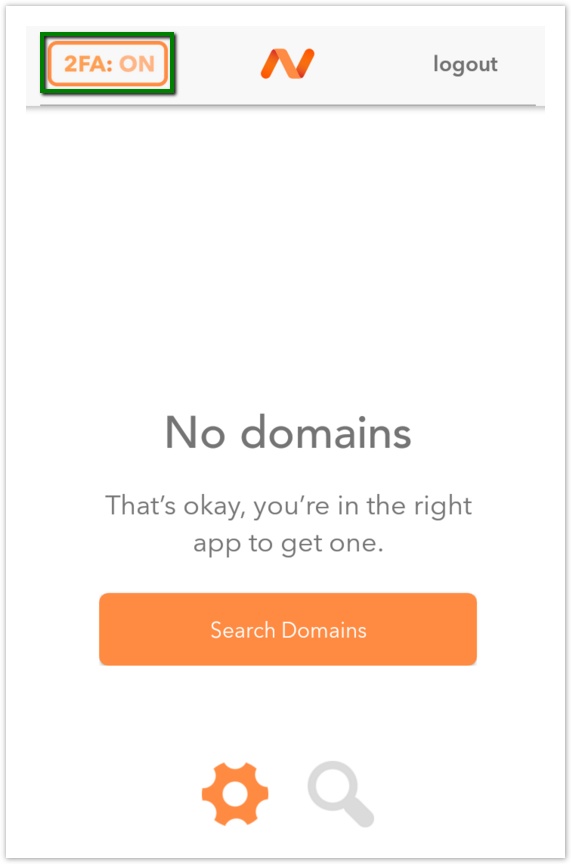 Click the "Register this device" button in the pop-up window that will appear: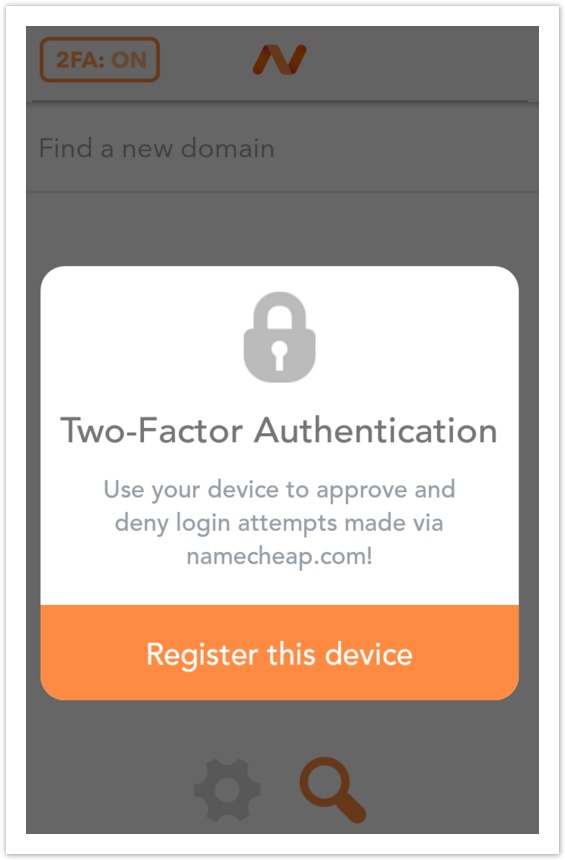 Get back to the Two-Factor Authentication page of your account to see that your device appears there. Finish your device registration process by clicking "Approve" next to it: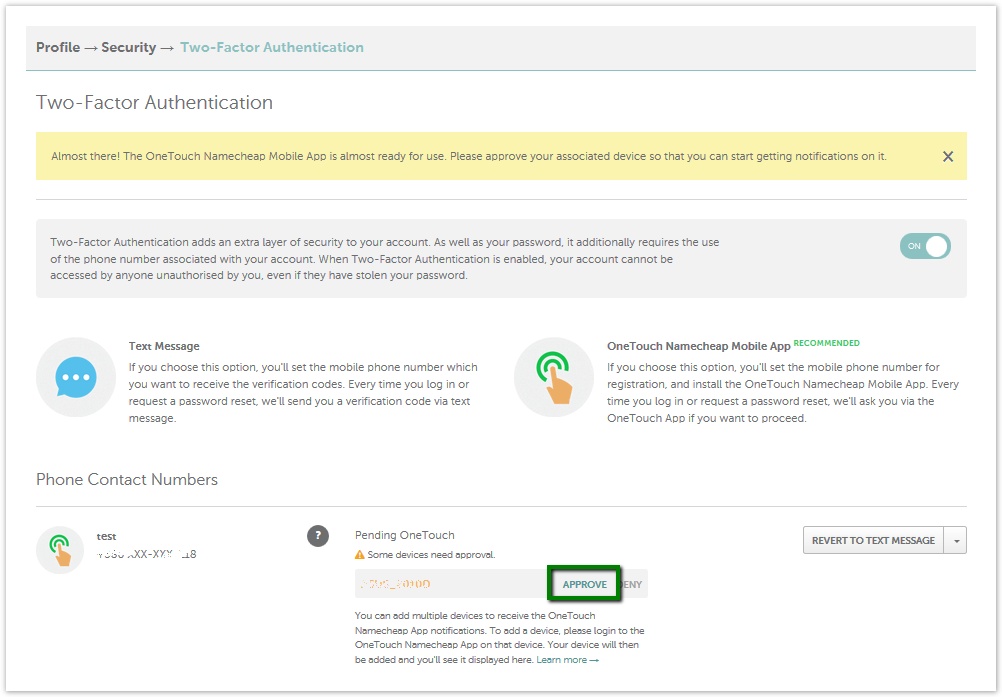 Now you will see that your device was successfully added. If the status is still pending, refresh the page until the device is listed as registered:
Next time you log in or reset the password, you will be asked to authorize the operation via the application: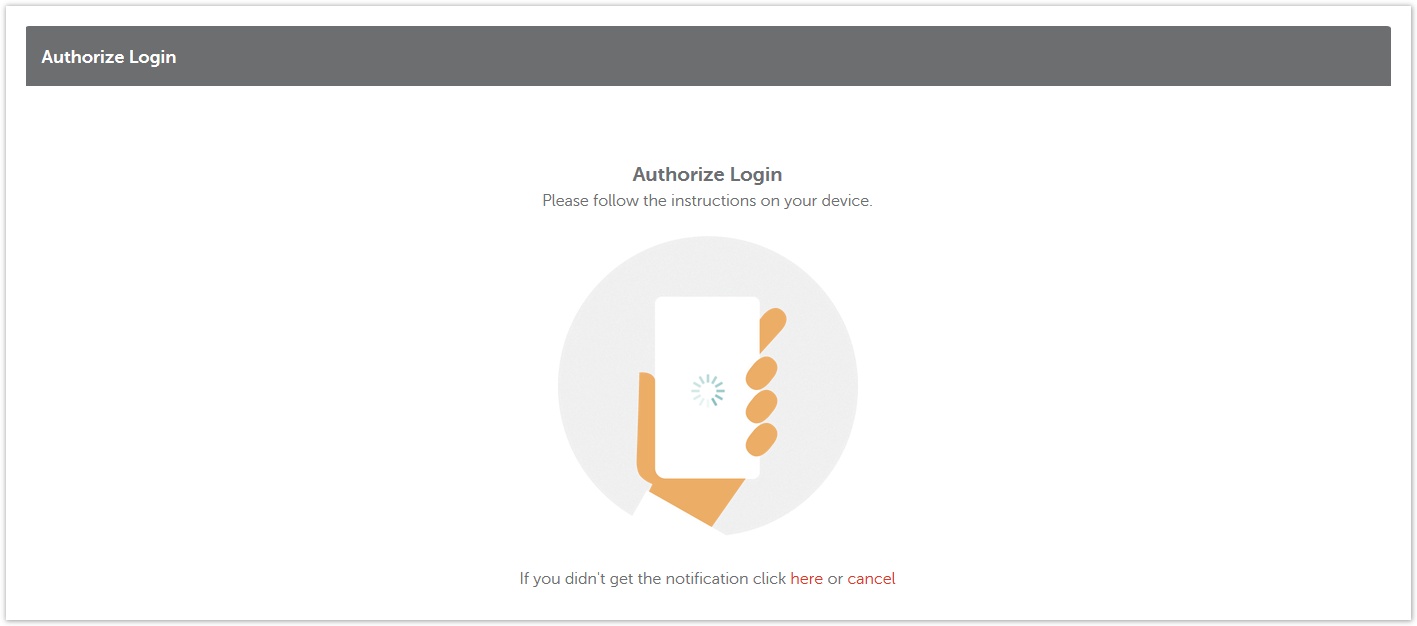 Just open the app and click Approve there.
That's it!
Please do not delete the Namecheap application from the device if it's used for OneTouch authentication. This can only be done after the corresponding device is removed from your account.
If you've lost your phone or changed your phone number, please get in touch with our Support Team to get the access to your account recovered. This is not necessary, though, if you have more than one device added to your account for OneTouch.
In case you wish to downgrade to the Text message verification, click on the "Revert to Text Message"button on the Two-Factor Authentication page of your account:

Enter your Namecheap password and confirm the change by clicking "Save changes":